Whether we're emotionally ready for it or not, the revival of fashion from the 2000s has begun. Yep, that's right–better get ready to relive some of your best 'what was I thinking?' moments.
While some of the eyewear trends of the 'naughties' can stay well and truly buried (diamante-encrusted frames, anyone?), one iconic look has returned in full force–the glorious coloured lens.
Donned regularly by the likes of Drew Barrymore and the Olsen twins, with tones in vibrant red or blue, the tinted lens was hard to ignore.
Fast-forward 18 years, and coloured lenses are back on the catwalk. They were a celebrated summer trend, and don't seem to be going anywhere fast.
Punctuating the attire of celebrities and style bloggers alike, statement glasses and tinted lenses are a great way to add an additional pop of colour to daily wear. Pair with complementary colours for a polished look, or create some visual interest with contrast.
Offering an equally practical and stylish way to embrace this trend is the Transitions® Style Colours Collection – a new range of bold-coloured lenses that are clear in low light, and come to life in the sun.
Available in four popular colours–amethyst, sapphire, emerald and amber–these prescription lenses offer a stylish approach to daily eyewear, and deliver protection from 100% of UV, as well as guarding against  potentially harmful blue light.
The new Transitions® Style Colours lenses modernise tinted lenses with up to date shades such as emerald, sapphire and amethyst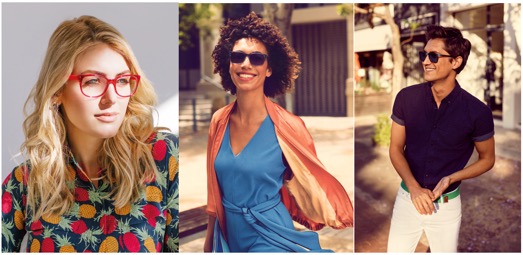 The coloured lenses can be used with almost any frame, which makes for plenty of choice when designing a pair of glasses that reflect your personal style.
Ask us about the Transitions® Style Colours Collection.